I LOVE PINTEREST! The site is so full of ideas to create PLUS you can store them for future reference. It's so easy and most website have a special link posted to add at your discretion.
Hence, several of my Fall decor ideas came from various inspiration on Pinterest.
First, my spider candy bowl creation. I have seen several crafters create various serving bowl creation by stacking simple bowls, plates, cups, etc. I started getting my Halloween decor out and had an "AH HA" moment. Spending only $1 on this project: 1) a candy bowl (webbed with a spider - I believe I got at Target a couple years ago), a margarita glass from a friend, and spiders/webs from Dollar Store. 2) Hot glue the candy bowl to the bottom of margarita glass. Let dry. 3) Place spiders and webs under glass. 4) Add Candy. And Ta-Da.
Spider Candy Dish
I, then, used the remaining spider webs to create a decoration on my restroom mirror.
Webbed Mirror
Next up...PUMPKINS :). Who knew the expensive pumpkins from art supply stores are also sold for $1 each. (Maybe not best quality, but worked for this project). 1) Spray painted pumpkins in random metallic gold, silver, black or white colors.
sprayed pumpkins
2)s) Take black Sharpie Paint marker and make a woodgrain pattern on the white pumpkin. You could also do various animal patterns OR reverse the color patterns.
woodgrain pumpkin
2)b) Spray various coats of spray paint on top to create a dripping effect. or 2)c) Place tape/rubber bands/yarn around pumpking & spray with contrasting color. I even added glitter spray on top the black one.
drippage/taped pumpkins
2)d) Take white Sharpie Paint marker and create spider webs onto black pumpkin.
spider web pumpkin
3) Stack pumpkins using chopsticks. Use books for altered heights. Or just place them around the house. FUN!! And non-themed pumpkins can last through the Fall season.
Finally, I attempted to use Mirror Glass Spray Paint to create a pumpkin. The intent was to spray 2 bowls from Dollar Store, glue together, and create a pumpkin shape. Like any project, there is some trial and error. The hot glue did not hold the glass bowl well, plus I couldn't get the same look that was posted as an example. Heidi Milton utilized the following method which would resolve my errors:
DIY Mirrored Pumpkin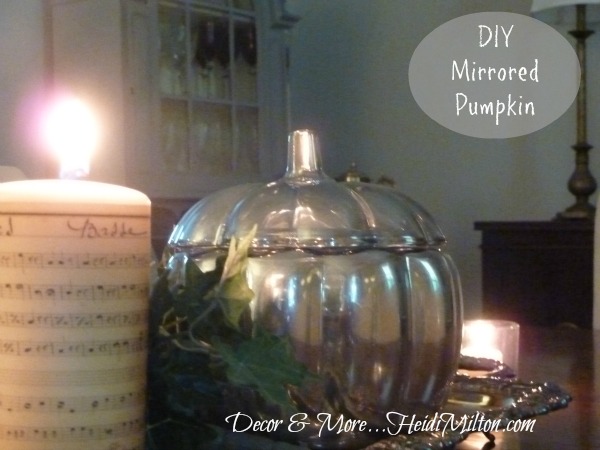 Heidi Milton's Mirrored Pumpkin
It's fun being a grown-up and still enjoying all the fun a holiday brings.
Finding new and exciting ways to create a festive atmosphere for all ages.
ENJOY CREATING FOR THE HOLIDAYS!