Thursday, October 18, 2012
PLEASE GO TO:
ALIGITT.BLOGSPOT.COM
THANK YOU
Posted by

Ali Gitt
at 1:39 PM
No comments:

Wednesday, September 26, 2012
I LOVE PINTEREST! The site is so full of ideas to create PLUS you can store them for future reference. It's so easy and most website have a special link posted to add at your discretion.
Hence, several of my Fall decor ideas came from various inspiration on Pinterest.
First, my spider candy bowl creation. I have seen several crafters create various serving bowl creation by stacking simple bowls, plates, cups, etc. I started getting my Halloween decor out and had an "AH HA" moment. Spending only $1 on this project: 1) a candy bowl (webbed with a spider - I believe I got at Target a couple years ago), a margarita glass from a friend, and spiders/webs from Dollar Store. 2) Hot glue the candy bowl to the bottom of margarita glass. Let dry. 3) Place spiders and webs under glass. 4) Add Candy. And Ta-Da.
Spider Candy Dish
I, then, used the remaining spider webs to create a decoration on my restroom mirror.
Webbed Mirror
Next up...PUMPKINS :). Who knew the expensive pumpkins from art supply stores are also sold for $1 each. (Maybe not best quality, but worked for this project). 1) Spray painted pumpkins in random metallic gold, silver, black or white colors.
sprayed pumpkins
2)s) Take black Sharpie Paint marker and make a woodgrain pattern on the white pumpkin. You could also do various animal patterns OR reverse the color patterns.
woodgrain pumpkin
2)b) Spray various coats of spray paint on top to create a dripping effect. or 2)c) Place tape/rubber bands/yarn around pumpking & spray with contrasting color. I even added glitter spray on top the black one.
drippage/taped pumpkins
2)d) Take white Sharpie Paint marker and create spider webs onto black pumpkin.
spider web pumpkin
3) Stack pumpkins using chopsticks. Use books for altered heights. Or just place them around the house. FUN!! And non-themed pumpkins can last through the Fall season.
Finally, I attempted to use Mirror Glass Spray Paint to create a pumpkin. The intent was to spray 2 bowls from Dollar Store, glue together, and create a pumpkin shape. Like any project, there is some trial and error. The hot glue did not hold the glass bowl well, plus I couldn't get the same look that was posted as an example. Heidi Milton utilized the following method which would resolve my errors:
DIY Mirrored Pumpkin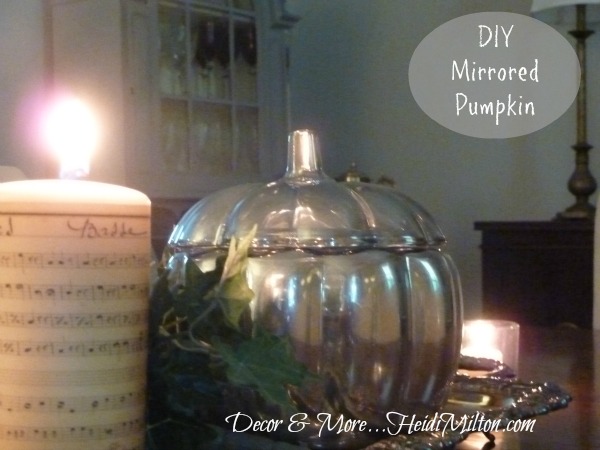 Heidi Milton's Mirrored Pumpkin
It's fun being a grown-up and still enjoying all the fun a holiday brings.
Finding new and exciting ways to create a festive atmosphere for all ages.
ENJOY CREATING FOR THE HOLIDAYS!
Posted by

Ali Gitt
at 12:24 PM
No comments:

Friday, September 14, 2012
"There are two mistakes one can make along the road to truth...not going all the way, and not starting."- Buddha
Thus, today I begin my blog.
INTRODUCING
1.2.3. origin~aLi~ty
Then, I had a little pep talk. Telling myself, "I can do this! I want to do this!" And thinking, I can take time and share my personality, my creative ability, and become part of an art world I cherish so much. After sending out a Facebook status asking for Blog names, I started writing down various ideas: alifromvalley (yes, I am Ali from Valley, NE), A Joyful Gab, Artful Ali, Gitt Going, and one inspired by the kids I babysit for Ali-Pop, Lollipop, Goody Goody Gumdrops (to be my kid related blog at some point).
But ultimately fell in love with
1.2.3. origin~aLi~ty
. The idea of taking adding 3 parts to each post appealed to me. (And I like the way numbers look.) Therefore, each post will consist of:
1. Inspiration
2. Creation
3. Retrospect.
So today is a new journey into the world of blogging! Wish Me Luck!
While attending an art crawl at Donna Downey Studios, there was an option to decorate a brush and be part of a funky, fun bathroom decor. Yes, bathroom!
Donna Downey's "Altered Brush Project"
motivated me to think outside my box on what I could do different, expand my creativity.
So I started: playing with material and ideas, making sketches of shapes, etc. A tree idea developed while using the pompoms. After tying the strands through the hole, and hot gluing them into place....I let the strand dangle down as roots. (I later cut them off .)
I tested out what UTEE would look like clear on the handle, but opted to wrap pattern paper around and ModPodge it down. LOVED IT!
Then the tree just took it's own life and I added various elements:
a. dry wall tape & floral ribbon around the metal band
b. little hat, shredded book text (altered with Distress ink), washi tape bunting, stamped UTEE coated birds, and glitter painted heart into the leaves
c. taupe colored paint + puffy painted word GROW to bottom brush section
d. metal trinket for tree knot
To me, a simple brush = a start, a new beginning, a huge momentum builder for launching my dream.
A simple brush = COURAGE, GROWTH, STRENGTH.
Posted by

Ali Gitt
at 12:40 PM
4 comments: